The very first episode :
Combat nurse Claire Randall and her husband Frank arrive in Inverness where they will be spending their "second honeymoon". While there, they meet Mrs Baird (landlady of their bed and breakfast) who tells the they have arrived in time for the Samhain festival when ghosts may be wandering the streets.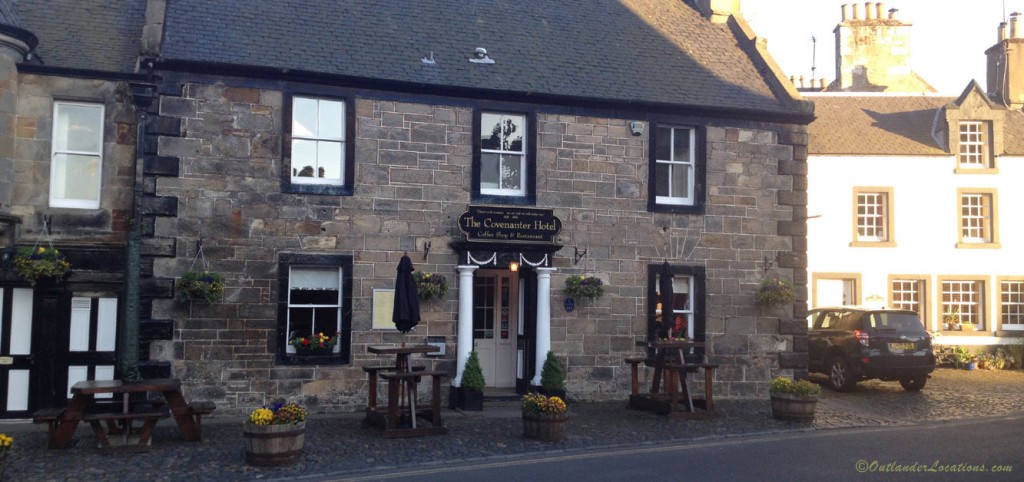 Frank and Claire visit the ruins of Castle Leoch. This is inspired by Frank's interest in family history, particularly his ancestor Jonathan "Black Jack" Randall. Frank informs Claire that, until the 18th century, Castle Leoch was once the ancestral home of Clan MacKenzie.
While Frank continues his investigation, Claire visits the local countryside. Observing a pagan ritual among a set of standing stones on the hill of Craigh na Dun, Claire hears a strange sound coming from one of the stones. Placing her hands on it she feels herself thrown to the ground. Dazed, she finds herself in the middle of what appears to be a mock skirmish between Redcoats and rebel Highlanders. But it's 1743, and it's real! So Claire runs to take cover.
Running from the Redcoats, Clare runs into a British Army Captain ("Black Jack" Randall), who looks exactly like Frank! He violently threatens her, but is stopped when a highlander (Murtagh Fraser) knocks him out and rescues Claire. She is then led to her safety where she meets a group of highlanders, including Dougal (the leader) and an injured Jamie Fraser.
Having tended Jamie's wounds, Claire is taken by the highlanders to their home, Castle Leoch.
The episode was filmed in the beautiful Scottish town of Falkland, making use of The Covenanter Hotel (as Mrs Baird's b&b). Doune Castle was used as the impressive Castle Leoch. Although, the stones were CGI, the location of used for Claire passing through to the 18th century was near the banks of the Loch Rannoch.