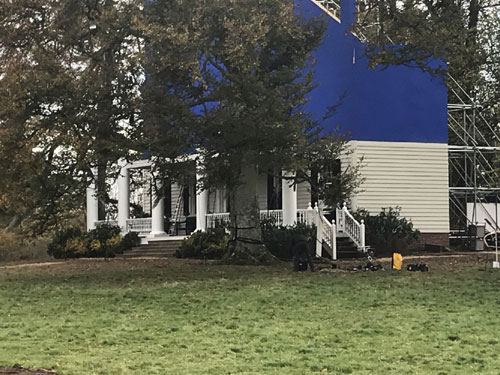 More good news about about Outlander season 4. Sam Heughan and the Outlander cast and crew have been doing more outdoor and late night filming. This time they've been seen near Crieff. The location reported is The Abercairny Estates, four miles from Crieff.
Unlike the recent Polmont shoot, security was tight. Many reported that they were unable to reach the site, being instructed to turn back. And, mud and thick forest made alternative route difficult.
#Outlander Season 4 filming update: every path for miles around the wooded filming location is totally sealed by security and deep mud pic.twitter.com/mDqoIU5MUZ

— Shaun Alexander (@ShaunAlex87) November 1, 2017
A lucky few however, were able to meet with Sam, presumably when he had finished filming for the day or was on a break.
@SamHeughan was lovely to meet you yesterday. Thank you for taking time out to let me take a pic. Enjoy the rest of the shoot. ? pic.twitter.com/a5QKSTI0SO

— June Straight (@JuneStraight) November 2, 2017
Filming had started on Wednesday (1 November) for three days. Luckily, despite security, a few determined fans were able to get close to the set. By Friday some photo's starting appearing online, showing what we think is a 'southern' plantation building.
No sign of the cast but got a wee look at the #Outlander set today in Crieff. pic.twitter.com/KUCgUqv2HB

— Louise Marwick (@louise_marwick) November 3, 2017