Located 21 miles south of Perth, Blairadam House appeared in Outlander 1.6, The Garrison Commander. It was used as the Scottish village occupied by Redcoat soldiers. Despite telling the English soldiers that she is in no peril, Claire and Dougal are 'invited' to the village by Lt. Jeremy Foster. There they meet Brigadier General Lord Oliver Thomas, commanding officer of the Northern British Army. To make matters worse, they also meet Captain Randall.
Blairadam House is situated in the centre of the Blairadam Estate, next to the Blairadam Forest. It offers impressive views of the surrounding hills, including Glenshee and the Pentland Hills.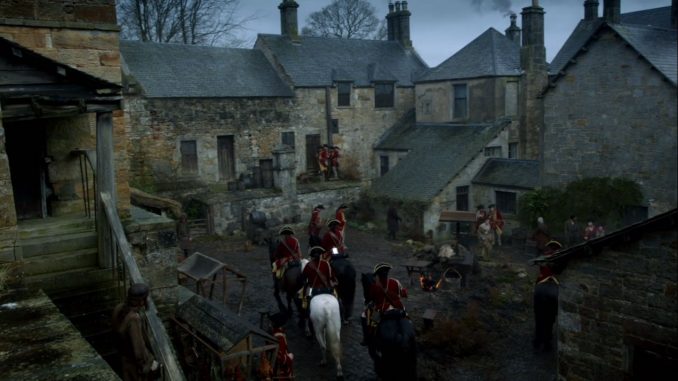 Image source : Starz
The site was established by architect William Adam, who purchased the land in 1731. After his death, in 1748, further plans for the estate were implemented, with some changes, by William's son John Adam. John's son, William, continued work again, and was responsible for re-naming it from Blair Crambeth to Blair Adam.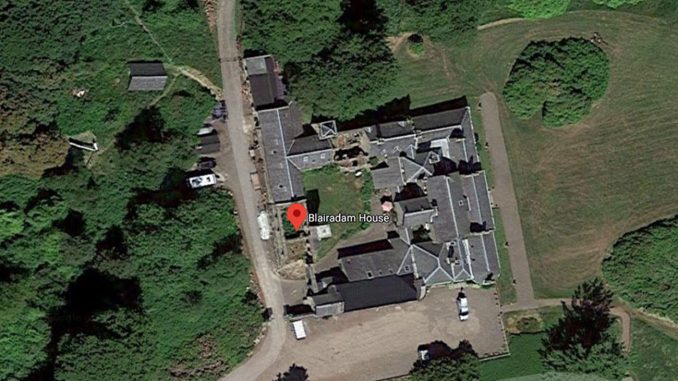 The site has changed hands a number of times. Falling into state hands during the world wars, it was used as a base for Polish soldiers during World War 2. It suffered some deterioration over those years. However, more recently it has returned to private ownership and is currently undergoing steady improvements.