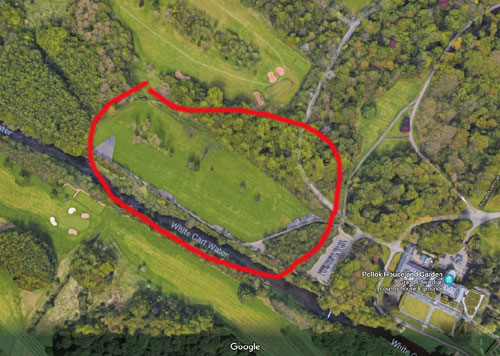 There is definitely no let up in efforts from the Outlander cast and crew.  Hard at work as ever, they've recently been seen filming in both Pollok Park and on the Gartshore Estate, near Twechar.
We've had some advance warning of the filming scheduled for Pollok Park. Being a popular park in Glasgow, it was difficult for local fans to miss the posted notices about proposed work. So, as expected, there were plenty of  reports and photographs of preparations for filming. First to show us evidence of preparations was Come See Scotland, who showed us tented structures that they understood was to represent a scene set in the 1960s.
@OutlanderLocs reliably informed that filming for Outlander was being set up near to Pollok House on Sunday 16th April. Believe it is for Season 4 in 1960s. pic.twitter.com/1EYCjyld0o

— Come See Scotland (@ComeSeeScotland) April 17, 2018
Further findings agreed with the time period being the sixties. The cars seen parked around the set were obviously from that time period, and remove any doubt about where it's meant to represent, i.e. the USA.
Some film set action for Outlander in Pollok Park today. #OutlanderSeason4 #pollokhouse pic.twitter.com/F97nN51t5h

— The Glasgow Video Co (@glasgowvideoco) April 20, 2018
At the same time, filming was going on at the Gartshore Estate, between Twechar and Croy. Possibly a bit more dramatic than the scenes being filmed in Pollok, the fire brigade were on hand for what one fan told us could be an "explosive" event. From the look of photos posted on Twitter, it definitely seems some drama should be expected in season 4.
From Facebook today #outlander #outlanderfilming pic.twitter.com/gfhdrET3ba

— kevin (@d16nag) April 19, 2018
We're currently waiting for more location news.For now, it's London Maraton weekend, and we know that Caitriona Balfe is under strict orders be at work the morning after the race. Where that will be we wait to find out. For now, we wish her luck and hope she has a fun, and safe, race.