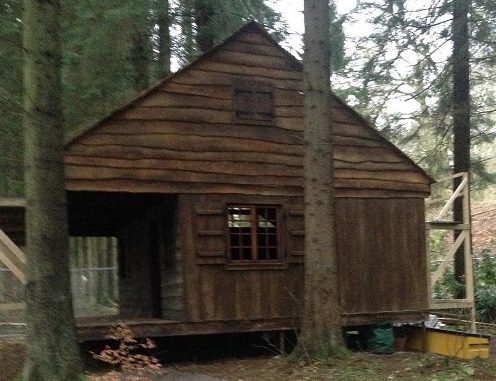 It's the set / location that everyone is waiting to hear about, and can't wait to see. Yes, we're talking about Fraser's Ridge. But anticipation has given way to confusion, with a wood cabin in Cumbernauld Glen being mistaken for Claire and Jamie's home in America.



Fraser's Ridge, as those who have read the Outlander books will know, is the land where Claire and Jamie settle after arriving in North Carolina. Initially, it is made up of three buildings – a one-room cabin (home to Claire, Jamie and Ian), a shed for storing and curing meat and another shed for Claire's herbs and foraged items.
Plans to film new series of fantasy epic Outlander in Stirling village revealed https://t.co/DmEzUJsHkG pic.twitter.com/c3wgYyijE3

— Inverness Outlanders (@InverOutlanders) April 8, 2017
Talk about building the set for Fraser's Ridge started last year. A request for planning permission at Cambusbarron pointed to the Outlander team wanting to make use of a semi-permanent site for at least a year. As reported in the Daily Record they were seeking permission to build "temporary vehicle access routes, temporary film set buildings, a construction compound, material storage and a filming service area". The areas mentioned, Murrays Wood and Murrayshall Quarry, peaked our interest as they could easily portray the Fraser homestead. However, recent chatter pointed to the ridge being developed elsewhere.
Veja como foi realizada a construção de Fraser's Ridge
Cenário da 4a. Temporada

Via @sueyit (Instagram)#outlander#OutlanderSeason4 #FrasersRidge pic.twitter.com/5ynitBw1kZ

— Outlander LS Brasil (@OutlanderLSBR) January 16, 2018
Only two days ago reports (from Instagram) showed a cabin being built in Cumbernauld Glen. This site is near Wardpark Studios, where Outlander is based. So, it would be easily accessible to cast and crew. With an otherwise lack of behind the scenes information, or news about Cambusbarron, speculation was raised that this could indeed be Fraser's Ridge. But, was it?
@jongarysteele @TheMattBRoberts #Guaranteed! This cabin would be log and chink. AuthenticityPlease! Hewingplanks with an ax? Sawmill nearby? pic.twitter.com/67wmsHWAnK

— Ayrton (@ayrtonandromeda) January 17, 2018
The speculation proved to be wrong. As some observant fans spotted, there were some differences compared to the Fraser's Ridge in the book. For example, In 'Drums of Autumn' the cabin is made out of logs, rather than side panels. Jon Gary Steele, who is the Production Designer in charge of Outlander set design, corrected the situation, stating that this "is not Jamie & Claire's cabin!!".
Like every Outlander fan, we remain keen to know more about the plans for Fraser's Ridge. Hopefully the powers that be will provide something (press release, tweet, etc) to satisfy our thirst for news, to see us through 'Droughtlander'.