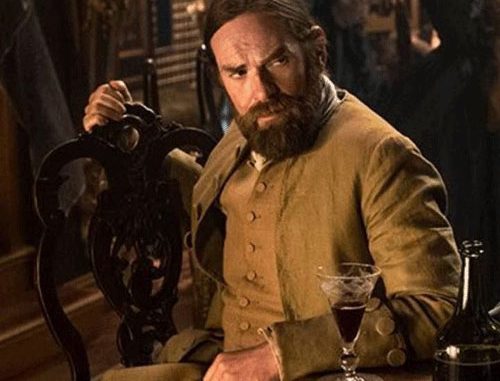 Murtagh is set to return to Outlander! Or, he will be, if recent reports are correct.
The Outlander team have been busy filming season 4 of our favourite show. Film crews have been seen in both Falkland and Cumbernauld Glen. Richard Rankin attracted crowds in the Falkirk representation of Inverness. Meanwhile Caitriona Balfe and others have  been seen working in Cumbernauld Glen, not far from the nearby film studios.
If you look VERY closely you can see @RikRankin filming #Outlander in #Falkland today @OutlanderLocs #outlanderfans pic.twitter.com/nJHoK6GFsG

— Thistle House, Falkland (@FalklandThistle) January 25, 2018
The other actors seen alongside Caitriona include the ever popular Sam Heughan. As ever, they were making time for their fans and obliging them with selfies.
@SamHeughan @caitrionambalfe Thanks for being so lovely to me and my daughter @CaitlynGeekie on set of #OutlanderSeason4 tonight. #outlander #SamHeughan #CaitrionaBalfe ❤️ pic.twitter.com/hfOueiasb6

— Tanya (@scotiachick18) January 25, 2018
As well as Sam, there is an interesting array of other actors have been seen working at the glen. Peaking the interest of many has been a number of extras acting the parts of native 'indians'. More familiar, but equally interesting, was the sighting of 'Lord William'.
Os índios ?#Outlander pic.twitter.com/KP7FLTs426

— Outlander LS Brasil (@OutlanderLSBR) January 30, 2018
However, to top it all, there were reports of one of the most loved characters of TV's Outlander. Despite initial doubts, photographs from the film set point to the return of Murtagh! As well as an initial sighting (reported on Twitter) by Mandy Earle (@amearle),  a trailer / green room marked for 'Murtagh' and fans posting photos of an actor who looks very similar to Duncan LaCroix, it seems the character that we at Outlander Locations consider the 'Han Solo of Outlander' is set to return to our TV screens later this year.
Is that #murtagh or not?? #DuncanLacroix #OutlanderSeason4 #outlander @gandusio @GinaPustor123 @NatBochkka @twingles321 @jillmetcalf @JAMMFWarriors @MurtaghsMaidens @barbden @barss_freddie @BernadetteClaxt @Amarige2017 @Bini1202 @SanneBorsti @CClark8229 @ElenaFadeeva3 pic.twitter.com/c07kqdms0b

— Britt (@britt_grie) January 30, 2018
It's been rich week for Outlander fans. The last while has been a bit quiet (filming indoors?), but the cast and crew are definitely firing on all cylinders now. Season 4 is going to the best one yet!