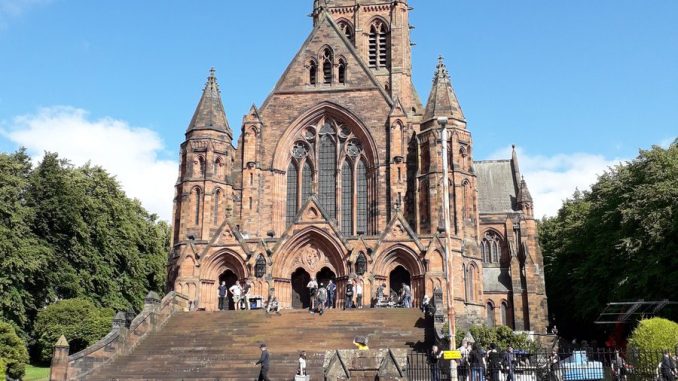 Excited Outlander fans flocked to Paisley on Sunday to see Caitriona Balfe and crew filming season 5 of their favourite TV drama.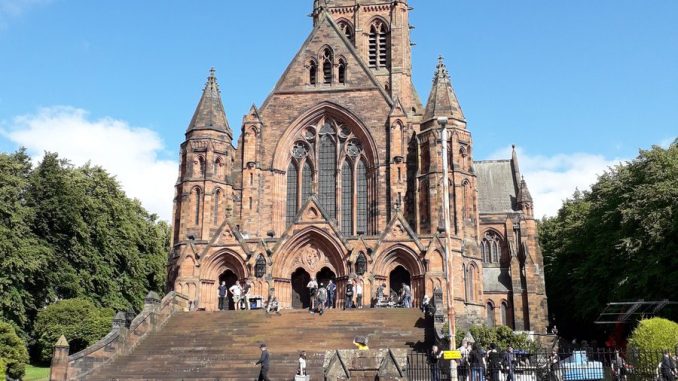 Filming was scheduled to take place on High Street and Wellmeadow Street in Paisley from Storie Street to Walker Street between 5 a.m. and 11 a.m. Despite the early hours there was no shortage of fans.
Early start to watch #outlander filming season 5 in #Paisley pic.twitter.com/Yw3eF8XIGB

— Clare Barron (@thebarronessno1) July 14, 2019
Filming centred around the Thomas Coats Memorial Church, known locally as the 'Baptist Cathedral of Europe '. Caitriona Balfe was the only star present. However, she kept the attention of the crowds, working on a number of scenes, both on the street and inside the church.
Some stills of #Outlander S5 filming in Paisley – Claire again. #CaitrionaBalfe – why would any time be wasted on a possible funeral?? pic.twitter.com/nbVduQiJYG

— Shery (@queenandadream) July 14, 2019
It was obvious that the scenes being filmed were set in the sixties, presumably in Boston. Caitriona's dress, and the cars quickly gave this away.
Maybe filming Frank's funeral? ⛪️⚰️ Or Roger's parents funeral? ?

? buzzcr IG #Outlander #OutlanderSeason5 pic.twitter.com/mdWhFvJZUM

— Leah Davies (@leahdaviesandco) July 14, 2019
There is much discussion about where these scenes fit in to the story. Some think it's connected to Frank's funeral. Considering Claire's light-coloured attire, we're not so sure. Others think it may be the funeral of Roger's parents. Again, we are really couldn't say.
Unconfirmed news reached us that Caitriona wasn't finished for the day. It was said that she went on to a "hospital in Govan" to film some more scenes. We're guessing, but presumably she went to the Queen Elizabeth University Hospital.