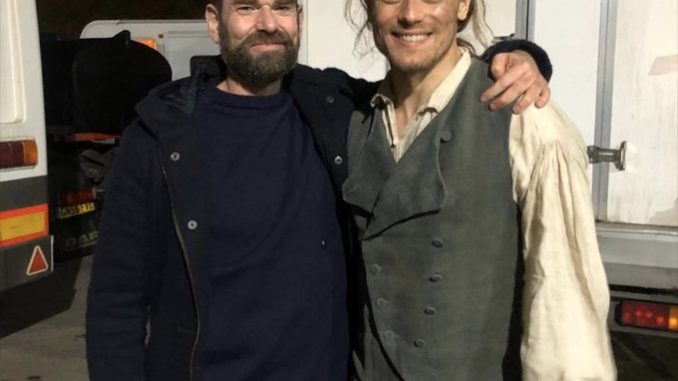 Its kept our interest for the past nine months, but filming of Outlander season 5 is now all done. And cast and crew are in a celebratory mood. As posted by Duncan Lacroix, he and Sam are in good spirits. This can only be a good sign for what's in store for our viewing pleasure. 🙂
The Outlander team have been working up to final wrap for the past couple of weeks. Some of the actors managed to finish ahead of the final week. Two of our favourites, Cesar Domboy and Lauren Lyle, wrapped on 11 November.
Today we learned we have the best fans ever. We also have the best cast ever. Here's the one and only @CesarDomboy doing his best "French man survives Scottish food" impression. Happy Season 5 wrap day darling …. we ❤️ you big time. #fergus #fersali pic.twitter.com/ADA8m45aJQ

— Caitriona Balfe (@caitrionambalfe) November 11, 2019
Over the last few days @Outlander_Starz celebrated the impending wrap on Twitter with Live Q&As with Sam Heughan and Caitriona Balfe, and with Richard Rankin and Sophie Skelton. Fans were given the chance to question the stars about their time filming their favourite show. Presumably, this meant these four were among the last to exit the building, working right up to the final day.
It's wrap day on Season 5 and what a Season it's been!! More Q&A to come in 30mins. Get your questions in and then @sophieskelton will be picking up the baton shortly after!! Join in #Outlander #Askrichard #Asksophie pic.twitter.com/dtZ6DJCAs8

— Richard Rankin (@RikRankin) November 21, 2019
Now that all the work is done, celebration beckons. No doubt there will be a few celebratory drinkies through the evening and night. There was a wrap party earlier in the week, and that seemed a lot of fun. However, it's Scotland, and the team seem like a fun bunch. So, we expect celebrations part 2, with a few cocktails enjoyed into the early hours.
#NEWS ? @SkeltonSophie & @TimDownie1 à la wrap party de la saison 5 : https://t.co/nejopzAnyc pic.twitter.com/Y9KThbvJiZ

— Outlander France (@Outlander_FR) November 19, 2019
Have fun all. And thanks for the great work. We can't wait to see the outcome in February.