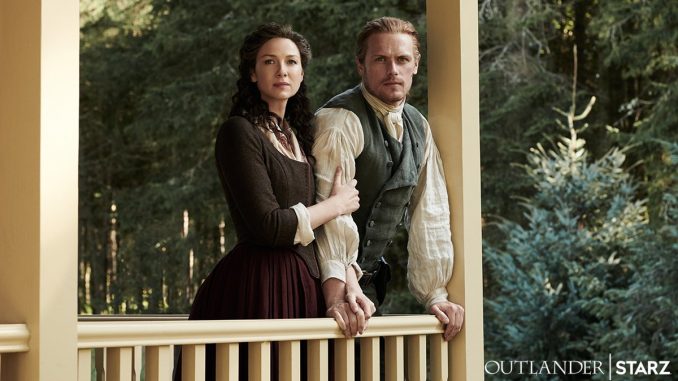 Following on from Sophie Skelton's comments about the start of filming for season 5, block 6, fans have been keeping an eye out for signs of filming. And there have been some good finds.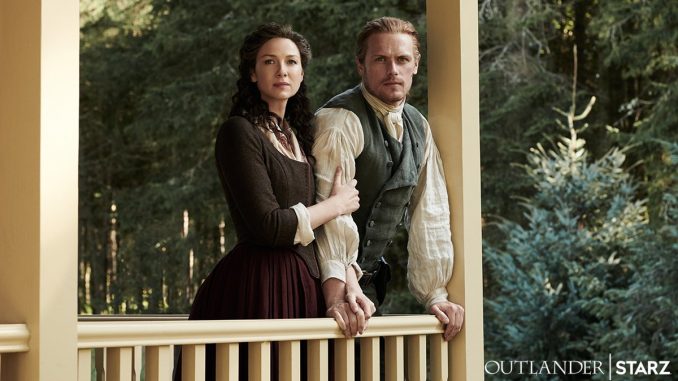 While fans have been looking out for indications of filming, Starz have helped peak everyone's interest by releasing the above image of Jamie and Claire at the Big House. Fans were definitely impressed. Showing them together, both looking strong and determined, has been well received.
And could it also indicate more filming at the Big House?
Sam confirmed (6 days ago / 20 October) via Instagram that Sophie's earlier comments that filming was indeed taking place. But we still didn't know where.
Unsurprisingly, it wasn't long before we heard some news. First reports were of filming at the Hermitage. Gary Chittick (@gbc123) and Graham Harris Graham (@GHarrisG) found signs of team Outlander at this beauty spot in Perthshire.
So was @SamHeughan filming at The #Hermitage today? The #Outlander crew were setting up on Monday and the site was closed today. Beautiful at this time of year. @Outlander_STARZ @N_T_S. #OnlyInScotland #ScotlandIsNow #ThePhotoHour @VisitScotland @Scotland Enjoy ??????? folks! pic.twitter.com/vPNVTZ317I

— Gary Chittick ???????? (@gbc123) October 22, 2019
Spotted #Outlander props being staged for a film crew this morning while out shooting new landscapes. #Perthshire #Scotland pic.twitter.com/V1WLGon7ph

— Graham Harris Graham ??????? (@GHarrisG) October 22, 2019
Suspicions were confirmed post-filming that Outlander cast and crew had been at work at this location.
Now filming is over, #Outlander fans can add this location to their list; Falls of Braan at the #Hermitage near #Dunkeld #Perthshire #Scotland. Just don't tell anyone else? pic.twitter.com/KJUsSlg2A2

— Graham Harris Graham ??????? (@GHarrisG) October 24, 2019
Next we heard, on Friday, 25 October, about filming near Cambusbarron, near Stirling. Unfortunately, nothing more cam from this. It seems to have been the site for a one day (night?) shoot on the Thursday. By the time we were aware and could pass it on, the Outlander team were gone and the site returned to normal.
And that, for the most part, is where things seem to stand. I say for the most part because Richard Rankin posted on Instagram. Unfortunately, although our knowledge of Scotland and its scenery is pretty good, we weren't able to determine any location from the background shown. 🙁
OK. We reckon that there are only 3 weeks of filming left to go. Keep up the great efforts and let us know if you see any of our favourite cast and crew at work. We really appreciate your input.