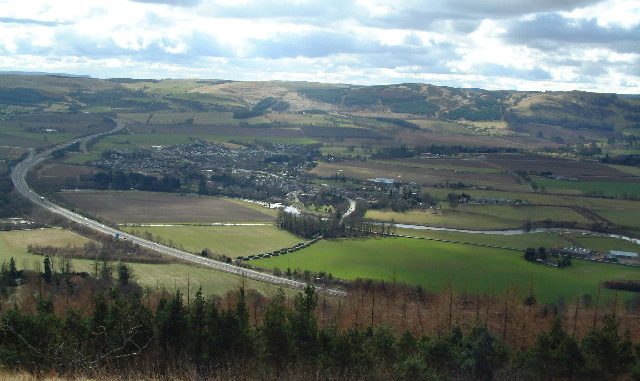 Filming has been continuing on Outlander season 4. Following recent sightings at Beecraigs and Newhailes House, there have been  further reports that cast and crew have been busy around Scotland.
Excitement started with reports of a new batch of filming.
Mother Nature must be a massive Outlander fan as it's a beautiful start to the filming day!!! @Outlander_STARZ pic.twitter.com/rel9f91Aa8

— patrick conroy (@patrickconroy01) November 29, 2017
Reports from fans soon led to the conclusion that the Outlander team were in Perthshire. More specifically, they were at Bluebell Woods, between the towns of Stanley and Kinclaven, north of Perth. None of the stars were visible, but Rollo was seen on site.
Looks like Rollo was taking a break! @SamHeughan @caitrionambalfe pic.twitter.com/zAl1wxgNTi

— Faith Kezia Armour (@Kezia1345) November 29, 2017
The following day saw reports, in the Courier, of Outlander work taking place south of Perth, at the Bridge of Earn.
More news about #Outlander filming in Perthshire, this time at Bridge of Earn. https://t.co/N73o47kOGe

— Outlander Locations (@OutlanderLocs) November 30, 2017
And executive producer, Maril Davis posted the image below, reported by a fan to be the road between Perth and Bridge of Earn.
It's a beautiful day in the neighbourhood. One of those days i'm reminded of how lucky I am to work in this lovely land #Scotland @Outlander_STARZ pic.twitter.com/SPi2ApXGl6

— Maril Davis (@TallShipProds) November 30, 2017
Since then, there has been little to report about location filming, presumably because they are working on set in Cumbernauld.