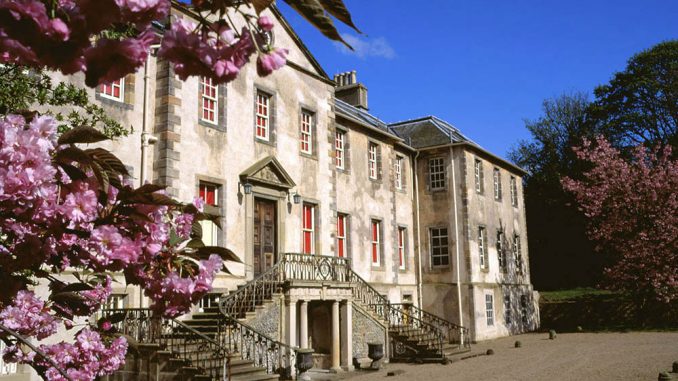 Filming of Outlander season 4 continues apace. Recent fan sightings have discovered two more locations being used by the Starz production.
Although most attention was elsewhere, a few vigilant fans found the Outlander cast and crew at Newhailes House, a large country house east of Edinburgh, not far from Prestonpans.
Newhails #Outlander Location season 4 packing up after filming today pic.twitter.com/qPswOkW7KM

— Outlander Scotland (@OutlanderTours) November 16, 2017
The other location was at Beecraigs, a country park west of Edinburgh, near Linlithgow (home to Linlithgow Palace, used as Wentworth Prison). Despite reports that security had been beefed up, at least one pair of fans were able to locate the film site.
Cold afternoon walk today. Found this bit of #OutlanderSeason4 #outlanderlocation #minikilttours pic.twitter.com/epco81URtk

— Mini Kilt Tours (@MiniKiltTours) November 19, 2017
Since then, some lucky fans have been determined and persuasive enough to be allowed to watch Caitriona, Sam and and the Outlander crew at work.
I was lucky ? I got to watch some filming of #Outlander Season 4 #frasersridge #beecraigs ? #linlithgow #beautifulhorses ? #beautifulriders ?? check out my story here https://t.co/PCjmrwTqZf pic.twitter.com/xe5Qbt3KZw

— Andree Poppleton (@poppy53) November 22, 2017