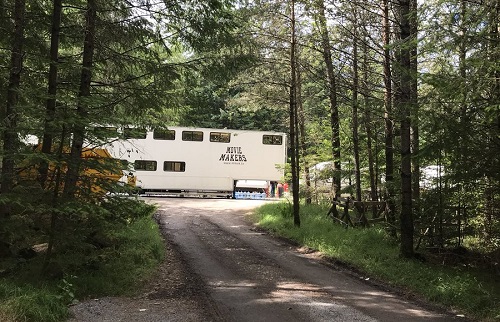 The Outlander team are only days away from completing season 4 of our favourite time-travel drama.
Anyone who has been keeping up with news and views will be aware of the the last block of filming has been taking place. Caitriona, Sam and co. were seen at Cumbernauld Glen. Then, with the arrival of the native Canadian actors, cast and crew moved to Faskally Forest, not far from Pitlochry. Reports were pointing to filming finishing around the end of June. A recent tweet by Sam Heughan now suggests work will end on or around 4th July.
Last 10 days shooting season 4 @Outlander_STARZ !! Want to send me some fan art and I'll post one each day??#ArtEachDay

— Sam Heughan (@SamHeughan) June 25, 2018
As mentioned in our previous post, there has been signs of the Outlander crew at Faskally Forest since at least 6th June. Further sightings have shown that at some filming has been taking place next to Loch Faskally.
Stumbled upon some filming at Loch Faskally today. Surely some @Outlander_STARZ The sun was out to make it look very un-Scottish for them pic.twitter.com/7swg2x34rw

— Lauren MacColl (@Laurenmaccoll1) June 21, 2018
We expect that most of the cast will be working up to end of filming. That said, there have been no sightings of the main actors. Cesar Dumboy (and Lauren Lyle?)  are finished their work, so they have an excuse. However, expectation is that Caitriona, Sam, Richard and Sophie are all still on set. Hopefully, we'll see them, and they'll stop to say farewell when it wraps up for the season.