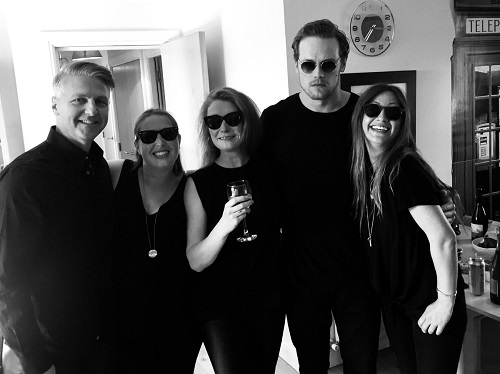 It's been a week now. Filming of season 4 of Outlander wrapped up on July 5. As reported by Sam and Caitriona in the @Outlander_STARZ tweet shown below, season 4 filming is finished. The production team now have all the material they need to create 13 episodes for our viewing pleasure later this year. It was time to celebrate!!
That's a wrap on Season 4, clan! #Outlander pic.twitter.com/rknDQPaMfX

— Outlander (@Outlander_STARZ) July 5, 2018
True to tradition, it was time for a wrap party. All the cast and crew were treated to an evening of merriment (alcohol and questionable behaviour). And it seems that it was universally enjoyed.
That's a wrap on #Outlander Season 4 via #steadimike on IG ??https://t.co/9NkROFke2B pic.twitter.com/hjyAljl77b

— Outlander Headquarters (@OutlanderHQ) July 6, 2018
John Bell in particular seemed to have fun, partying with other cast members.
*New* Pics of the Cast of #Outlander at the Season 4 Wrap Party https://t.co/qCS9CvBDB5 pic.twitter.com/YYqq6fohE4

— Outlander Online (@OutlanderOnline) July 7, 2018
So what now? As far as we're aware that's it until November. Season 4 will air then, and we understand that filming for season 5 will be starting at the same time. 'Droughtlander' is always tough, but the cast and crew deserve a break. And with seasons 5 and 6 agreed, we know we have much to look forward to. Thanks again to all involved. Keep up the good work!