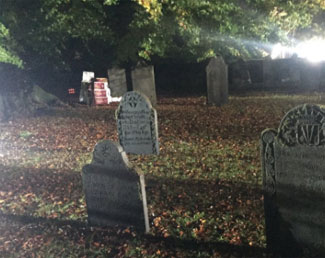 There's no doubt about it! Season 4 filming for Outlander is under way. A number of the show's fans who live nearby have been reporting sightings of Sam Heughan and Caitriona Balfe filming a grave digging scene in Polmont's Gray Buchanan Park.
had the funniest time creepin thru the woods at midnight to see some outlander filming and props, film studentness QUAKING pic.twitter.com/m4ba8DPhG0

— sophie clark (@t0mlincat) October 20, 2017
As you can imagine, there was some excitement at what was going on. Many stayed, in the rain, watching the Outlander cast and crew at work.
@SamHeughan I'm just home from standing in the rain watching you film season 4 ? gutted I never got to meet you but had a ball with fans pic.twitter.com/2JR8a0yNJj

— nicole bradgate (@NBradgate) October 19, 2017
As ever, Sam Heughan showed thanks to the loyal fans, some getting selfies with the star.
Amy&Ailsa meeting ?@SamHeughan filming #Outlander series 4 in our local park #surreal #Scotland pic.twitter.com/dQKReObmCN

— *Marie*Short* (@mariershort) October 21, 2017
Some fans noticed a new member of the Outlander team. The four-legged addition will most likely be playing Rollo the wolf-dog in season 4.
#NewVideo of Sam as Jamie Fraser with a dog which plays Rollo on the set of Outlander season 4 #OutlanderSeason4 pic.twitter.com/cnnwaXkbvg

— Daily Sam H (@DailyHeughan) October 21, 2017