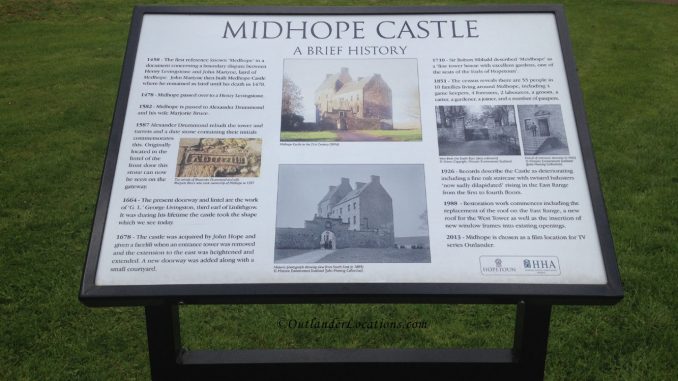 Unconfirmed reports have indicated that Outlander filming is about to take place at Midhope Castle.
I can unofficially confirm #outlander filming at #lallybroch next month . I think #jamiefraser and Claire will be there for 4 weekshttps://t.co/xuhCCHQIkQ pic.twitter.com/jbdXxo9vEI

— David Rankin (@castlepictures) July 23, 2019
**** WARNING : Text below contains a number of spoilers. *****
Midhope Castle occupies an important place in the minds of Outlander fans. Used as the filming location for the iconic Lallybroch, the estate established by  Brian and Ellen Fraser and left to Jamie on his father's death, it quickly became a fan favourite. Appearing in all seasons to date, the 16th century tower house is believed to be set to appear in season 5. Filming is believed to be imminent, possibly starting by the end of the month.
There has been some confusion and controversy over the season 5 filming. There is disagreement over whether the filming will actually take place. Also, if it does, will it be in line with the story in the book The Fiery Cross.
We're  inclined to believe that filming will happen. At least two tour guides, including David Rankin of Private Tours Edinburgh, have indicated that they are aware of filming about to take place at Midhope Castle. This makes sense. To plan their tours they will presumably need to be forewarned of any reasons that access to the location may be restricted. We expect the owners of Midhope have provided them with this vital information. Whether or not filming is for Outlander is a little less certain.
Controversy and disagreement stems from the appearance of Lallybroch in season 5. Many state that the Fraser / Murray home does not appear in the book, The Fiery Cross. Many fans have expressed their ire at what appears to be unwanted changes to the plot. However, there are a few pages in the book when Jamie and Claire read a letter from Jenny, discussing Laoghaire. Our hope and expectation is that the contents of this letter will be the subplot that will be filmed at Midhope.