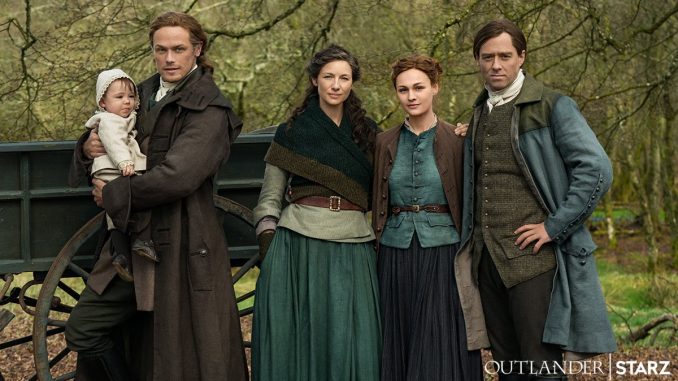 The Outlander cast have been keeping quiet lately. Similar to the extra security put in place at the filming sites, it seems that the actors are under orders to say as little as possible. And, as Droughtlander continues, some fans are beginning to show their frustration.
I'm having Outlander withdraws??? I NEED DROUGHTLANDER TO END?????????? pic.twitter.com/MMPL25s8Gv

— Jess loves Sophie? (@LOutlander) August 25, 2019
Let's be fair. There has been some news about Outlander season 5. We've been kept informed about recent castings, with several potentially significant additions to the show. Also, a few comments have seeped out from / about the actors. And Matthews B Roberts has provided a brief update of the progress (#morethanhalfwaydone). But is it enough?
View this post on Instagram
There have been some recent castings announcements. The addition of Mark Barrett has created significant interest, particularly the fact that he looks a bit like Richard Rankin. Similarly, we were told about Leonard Cook joining the Outlander cast. Little is known about his likely role, but we expect that it has to be somewhat significant. More recently was the employment of two 3-year-old twin child actors. This has stirred up some interest, with suggestions that they may be there to play the part of either Jeremiah Mackenzie, Roger and Bree's son, or Fergus and Marsali's son, Germain.
Although some actors have posted on social media, this has been sparse at best. As stated previously, Caitriona tweeted a brief message to fans showing that she is filming with a goat. Sam, although seen, has been keeping away from making any remarks about season 5. Kyle Reese (John Quincy Myers), Tim Downie (Governor Tryon)  and new addition Mark Barrett, have all indicated that they are on set. However, they've rarely provided more than a single, brief tweet showing that they at work on Outlander. Even Colin McFarlane, who has tweeted a few comments, including him meeting comedy titan Billy Connolly,  didn't say much more than that he was in Scotland for filming Outlander.
If you go down to the woods today ……??? #JQM #Outlander @Outlander_STARZ #Starz pic.twitter.com/0mocK0YA2f

— Kyle Rees (@TheKyleRees) August 13, 2019
And what about the other actors? Duncan Lacroix, Lauren Lyle, Maria Doyle Kennedy, Cesar Domboy, etc, etc. Barely a word from any of them. One Instagram post did slip through the cracks, showing Lauren with wolf dog Rollo. Should we expect to see young Ian? Or only his dog!? Otherwise, not a word.
You have my attention LL?? Spoiler alert but they must be towards the end of filming bc Young Ian comes back later? Is that Rollo? pic.twitter.com/3ybMyhZBsl

— Jess loves Sophie? (@LOutlander) August 21, 2019
And don't forget the crew. Teases from the likes of Jon Gary Steel, Matthew B Roberts and others were, until season 5, fairly frequent. Their regular posts, showing off sets and outdoor filming locations are significantly fewer compared to previous years. A definite loss.
It could be said that we expect too much. Do the cast and crew need to keep fans up-to-date? Other shows don't. And should we not just leave them to get on with their work, producing the episodes that we want them to finish as soon as possible? That wouldn't be an unfair position to take. However, it would also be reasonable to say that recent seasons did create a level of expectation that isn't being matched this time round. So, it would be nice to be given a little bit more of an inside view of how things are progressing. Droughtlander is tough. Throw us a bone!