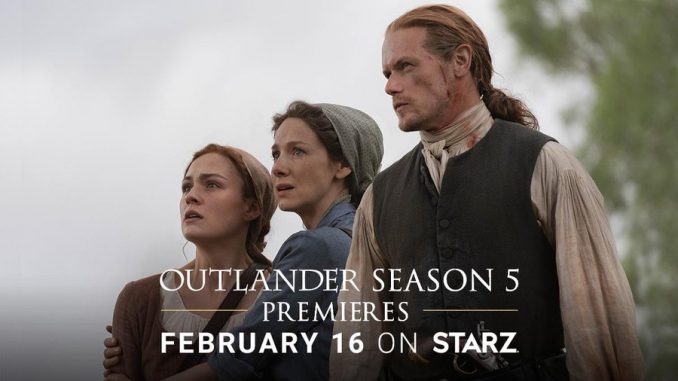 Lately Outlander fans have had much to be excited about. This has been mainly caused by Starz revealing the season 5 premiere date and the disclosure of who will be on the much-anticipated New York Comic-Con (NYCC) panel.
Starz disclosed that season 5 will premiere on Sunday, February 16, 2020. This is great news! We now have a date to look forward to. It may be 5 and a half months away, or 171 days (as of August 29). However, some had predicted that we would have to wait until March. So, the date given is at least 2 weeks sooner than some had expected. We're already counting down the days. 🙂
Save the date, #Outlander fans. Season 5 premieres February 16 on @STARZ! pic.twitter.com/991m3FtEtM

— Outlander (@Outlander_STARZ) August 29, 2019
Many will be aware that Outlander is going to be attending the NYCC (October 3 – 6). As is typical when this happens, there will be an Outlander panel. However, there seems to have been some confusion about who would be on the panel. The original plan seemed to be that it would be Caitriona Balfe, Sam Heughan, Sophie Skelton, Richard Rankin, Ronald D Moore and Maril Davis. Well, that's what the NYCC poster was telling everyone as of August 21.
Be still my beating heart ? @Outlander_STARZ's panel at #NYCC is on Saturday, October 6 with @CaitrionamBalfe, @SamHeughan, @SkeltonSophie, @RikRankin,@RonDMoore, and @TallShipProds! https://t.co/ww6y7n8wSZ pic.twitter.com/tGWFB4EQnA

— New York Comic Con (@NY_Comic_Con) August 21, 2018
The line-up has, however, changed. Diana Gabeldon, forwarded a press release via Facebook, dated August 29, making it known that the panel will sit on October 5, as opposed to the originally slated October 6, and will include some different faces. The new actor line-up is Caitriona Balfe, Sam Heughan, Duncan LaCroix, Maria Doyle Kennedy and David Berry. Diana Gabaldon will also be there, as will Ronald D Moore and Maril Davis.
A question than comes to mind is why replace Sophie and Richard. Our guess is that it's to avoid the chance of any spoilers. There is a very significant scene involving both, and it may have been thought that their presence could have 'spoiled' it. We don't know for sure. However, we expect that Duncan, Maria and David will be more than adequate replacements.