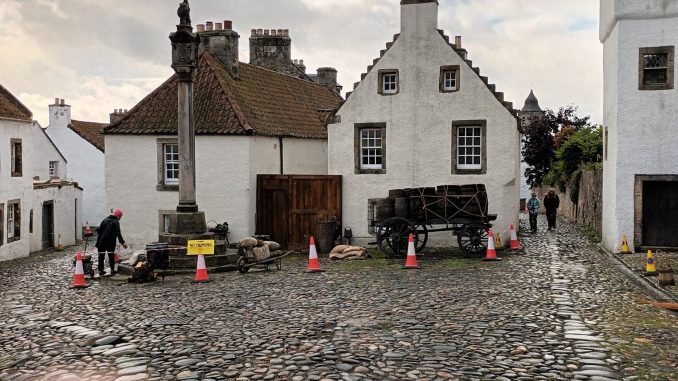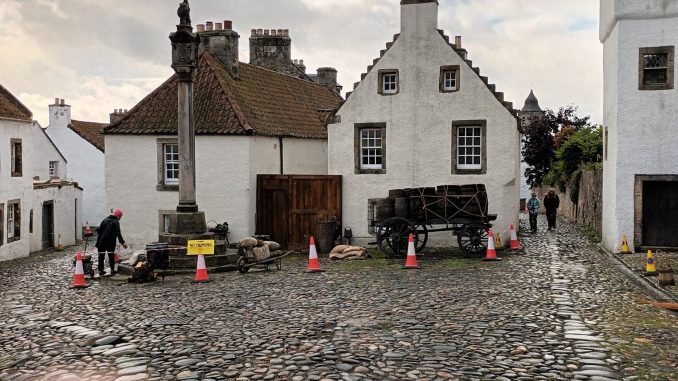 The last couple of weeks has seen reports of Outlander filming across Scotland.  As expected, this is attracting a lot of interest from fans of the TV series.



Reports surfaced on 27 September of filming near Kinloch Rannoch. Photos on Twitter show Sam Heughan, Caitriona Balfe and John Bell near the Craigh na Dun filming site. There was also talk that filming has been going on at fan favourite location, Lallybroch (Midhope Castle).
🎬 MAKING OUTLANDER 7!🎥
Local Outlander fan Sarah Robertson gave me permission to post her great pics of S7 filming – looks like they have new clothes (except maybe young Ian 😉) & a lot of beautiful sunshine ☀️ #samheughan #caitrionabalfe #johnbell @Outlander_STARZ pic.twitter.com/95IQQ0O7EH

— Andree Poppleton (@AndreePoppleton) September 27, 2022
More recently, there have been reports of filming at Culross. Admittedly no recognisable cast has been seen, and it can't be said for sure that the filming is for Outlander. However the locations closed to access are Mercat Cross (Cranesmuir), 'Balriggan' Cottage (Laoghaire's home) and Culross Palace (often used for indoor scenes). So, we're definitely hopeful.
BTS #Outlander S7 Filming in Culross
Looks like Merkat Cross, the Palace and other parts of the village.

Credit Pati Sears-Burnett fb #outlander #culross #Dunfermline #crewsetup #scotland #film #BTS pic.twitter.com/a88jMVmpti

— Lady T 777 (@LadyT510) October 6, 2022
A few fans are in the area. So we're expecting more news soon. 🙂