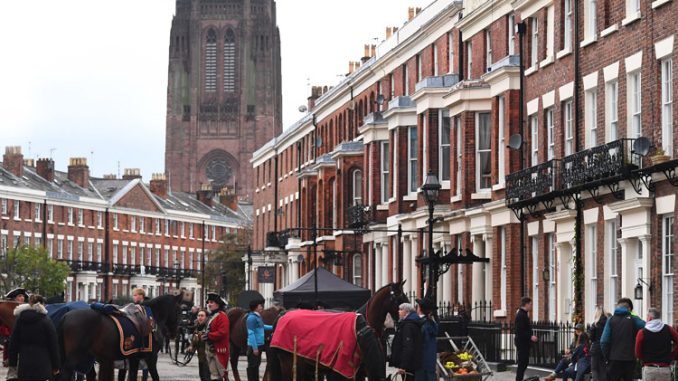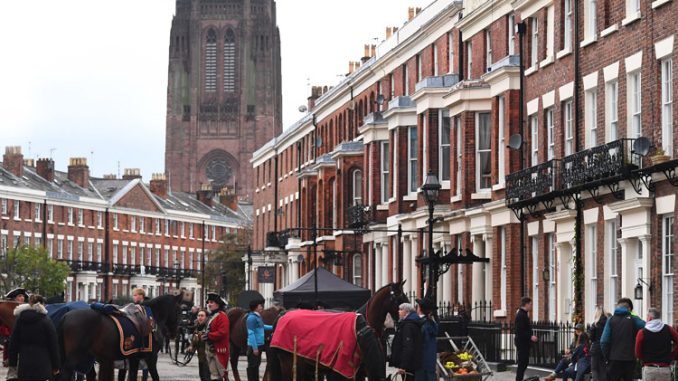 Filming of Outlander season 7 has moved south of the border to two new locations, Chester and Liverpool. Thanks to recent resports, many of us were aware of the impending Liverpool filming.  However, the news from Chester was a not unwelcome surprise.
View this post on Instagram
As ever observant fans have been keeping the fandom updated. Early this week Huxley's (@huxleys_chester) posted images, showing two Redcoats, as well as props being set up, near Chester city walls. Sam Heughan and David Berry were similarly spotted by some Outlander fans in Liverpool. The two actors were seen filming in Canning Street which has been transformed to play the part of 1770s Philadelphia.
Outlander filming in Liverpool on Canning Street….@LivEchonews pic.twitter.com/iZiRkhGE6d

— Andy Teebay (@andyteebaypics) November 10, 2022
England is rarely used for location filming. Being based in Cumbernauld in Scotland, the Outlander cast and crew typically use locations fairly close to home. However, this is not the first time Outlander has filmed in England. Other English locations include Carlisle Castle (used as the execution courtyard at Wentworth Prison), where Taran MacQuarrie was hanged and Wilton House (used as Versailles Palace), near Salisbury.