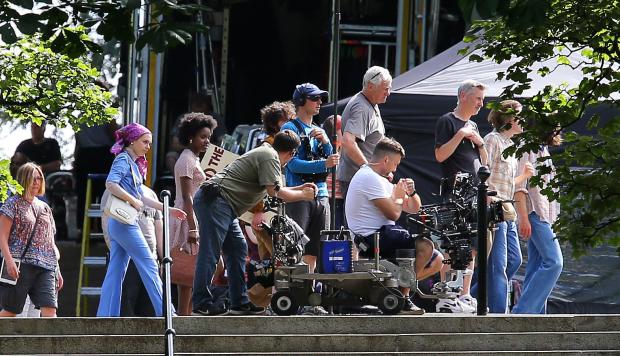 Although we don't always hear about it, filming for season 5 of Outlander continues unabated. And, thanks to the Evening Times and some observant fans, we've been made aware of some interesting recent events.
A new filming location has come to light, Queen's Park. It was reported on 23 July by both local media and fans that the park had been taken over by Outlander, with part of the park being closed off to the public.
If you live in the southside of #Glasgow, Queens Park is cordoned off… on the hottest day of the year.

They're filming @Outlander_STARZ here.

Southsiders can't get in to the public park today. pic.twitter.com/4OtuyxHmae

— The 'Journalist', Kristian ????????? (@LoveEUToo) July 23, 2019
Queen's Park is an interesting choice for filming. Located in the south side of Glasgow, this green space is named after Mary Queen of Scots, who fought her final battle nearby. Although dating back to the 1800s, it is a well maintained recreational area with numerous modern facilities. These include a boating lake, pitch and put course and 19 century glasshouses. So what's being filmed?
Our best guess is that they're filming scenes from the 1960s. Considering the modern facilities around Queens Park, we don't imagine they were filming scenes from the 1700s. Also, the previously used Outlander location, Pollok Park is only about a mile away, and would offer many better sites for depicting 18th century North Carolina. On top of that, the image below, from the Evening Times may be an indication. The way some (actors?) are dressed (flared jeans, etc) suggests to us that they will be focusing on the 20th century part of the story. As per previous fan comments about the scenes in the sixties, this could be quite controversial.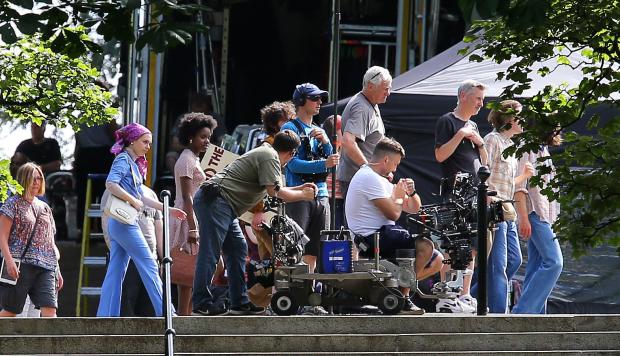 But that's not all. Other reports point to filming going on elsewhere.
There has been reports of Movie Makers vans heading in the direction of Stirling. As the Tweet below suggests, this isn't proof of Outlander filming, but it is fair to wonder.
@ScottJKyle1 are you filming more outlander just seen a few of these heading for Stirling area ? pic.twitter.com/9CdBQAxoE1

— Emma (@EmmaXemmax1991) July 25, 2019
As for news from the stars, Caitriona Balfe has treated us to a wee update. A video posted on Instagram shows her in a tent, ready for work, but waiting for the rain to stop. She didn't say anything. Presumably, she was frustrated, just waiting it out until the weather improved. As everyone in Scotland will agree, the weather is near impossible predict, and can change in a moment. Hopefully, that held true and she was back to work in no time.